You are here
Back to top
Ava the Monster Slayer: Cousin Power (Hardcover)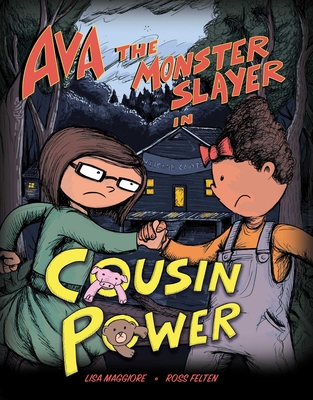 $16.99
Usually Ships in 1-5 Days
Description
---
Ava (and Piggy) are back with a brand-new adventure!

Ava proved she's a fierce monster slayer after defeating the ferocious basement monsters to save her favorite stuffed animal, Piggy, in Ava the Monster Slayer: A Warrior Who Wears Glass.

Now, Ava must gather her courage once again as she gets ready to attend an overnight camp for the first time. She and her cousin, Sophia, are scared of being away from home, but they take comfort in Piggy and Sophia's Teddy being by their sides.

After an evening hike, Ava and Sophia return to their cabin and discover Piggy and Teddy are gone! The girls refuse to leave their beloved stuffed animals outside overnight and quickly devise a rescue mission.

Ava knows that they'll have to be fierce when they face the monsters lurking in the dark woods. The girls don't have weapons to help them confront the monsters (Ava's warrior sword is at home!), so they make their own using rubber bands, a hanger, and candy.

Not even the growls or the stinky smells of the creatures in the woods are going to stop them in their quest. Ava and Sophia are determined to rescue Piggy and Teddy—no matter what.
About the Author
---
Lisa Maggiore is the author of a children's picture book Ava the Monster Slayer: A Warrior Who Wears Glasses, a short story titled "Pinterest Saved My Marriage," and a novel, Home from Within. Lisa is currently working on other writing projects and practicing her storytelling skills during Live Lit performances. Lisa resides in Chicago with her family.

Ross Felten is a graphic artist living in Lombard, IL. He enjoys coaching soccer, singing in the shower, and winters in the Midwest.  You can follow Ross's artistic pursuits at www.rossfelten.com.
Praise For…
---
"The combination of tenderness for stuffed companions and the fierce bravery required to rescue them is fun and refreshing. . .  Light entertainment for kids who like drama." —Kirkus Reviews

Praise for Ava the Monster Slayer: A Warrior Who Wears Glasses
 
"Maggiore and Felten's treatment of this familiar story theme not only overcomes a fear of the dark but also kicks it in the head. Nicely done."—School Library Journal
 

"A triumphant sally in the long-running war against closet and other domestic monsters, with these mildly scary monsters not slain but thoroughly routed." —Kirkus Reviews